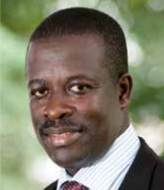 CLICK TO VIEW FULL PROFILE
Charles Nsiah is a Senior Accountant and acting College Finance Officer at College of Humanities and Social Sciences (CoHSS). He is Chartered Accountant and a Fellow of the Association of Chartered Certified Accountants (FCCA) (UK) and also a member of the Institute of Chartered Accountants, Ghana. Charles had most of his tertiary education in UK. He holds a BA (Hons) in Accounting and Finance from London South Bank University, UK, MBA in Financial Management from University of Exeter, UK and ACCA at the London College of Accountancy (LCA).
He was appointed acting College Finance Officer for the College of Humanities and Social Sciences in October 2016 having served as College Finance Officer for College of Engineering from September 2013 to October 2016 and Head of Payables (KNUST) from April 2010 to September 2013. In the early years of his professional career, Charles worked as an Internal Auditor at Ghana Post Company Limited before joining the University in the year 2010.
Phone: Cellular +233 (0) 322060364
Email: cnsiah.fin@knust.edu.gh
Office:  Finance,College Of Humanities and Social Sciences, Provost Office
Office Hours: 8.00 – 17.00
Address: Provost Office, CoHSS- KNUST, Kumasi, Ghana