On Monday, 24th January 2022, a delegation from the Faculty of Law, Kwame Nkrumah University of Science and Technology (KNUST) led by its Dean, Dr Ernest Owusu-Dapaa, paid a courtesy call on Professor Charles Ofosu Marfo, the Provost of the College of Humanities and Social Sciences. The purpose of the visit was to introduce, to the Provost, Professor Kofi Oteng Kufuor, the Guest Speaker for the Eminent Legal Scholars Public Lecture Series organised by the Faculty of Law, KNUST. The lecture is scheduled for 25th January 2022 at the Great Hall, KNUST.
Professor Kofi Oteng Kufuor studied at the KNUST, the London School of Economics, and the University of Warwick. He is the author of 4 books with a fifth one on the African Continental Free Trade Agreement forthcoming. He has been Professor of Law in the University of East London since 2006 and has held visiting positions at LECIAD in the University of Ghana, The GIMPA Law School, the Institute of Advanced Legal Studies (IALS), London, and the Lauterpacht Research Centre for International Law at Cambridge University. Professor Kufuor is also co-General Editor of the African Journal of International and Comparative Law.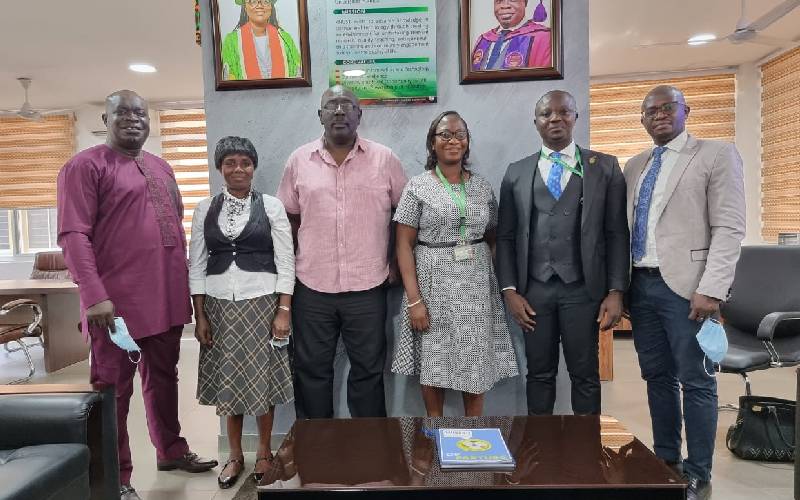 Present at the meeting were Mrs. Abigail Dzama Anderson,  Registrar, Faculty of Law, KNUST and Dr. Thaddeus Manu, a Senior Lecturer at the Faculty of Law. Welcoming the delegation, Professor Charles Ofosu Marfo in a brief remark, expressed his profound appreciation for the visit and reiterated his support for the Eminent Legal Scholars Public Lecture Series. He thanked Professor Oteng Kufuor for honouring the invitation to be the speaker at the maiden edition of the event. In response, Professor oteng Kufuor articulated his appreciation to the University for the organisation of the Eminent Legal Scholars Public Lecture Series and for His invitation. In a synopsis, Professor Oteng Kufuor stressed on the cardinal relationship between law, science, and technology as a tool for innovation, an endeavour in which KNUST is a leader advancing applied research knowledge, developing and adapting innovative technologies for the common good of society.